Earlier this year, me and a couple of friends decided on a summer roadtrip throughout the Deep South, the most southern states of the USA. As we have a shared history of playing in bands or writing music together, we thought it cool to purchase some second-hand instruments and travel through the most musically relevant of the USA states. This short blog covers our 3-week itinerary, with plenty of pictures to go along with it.
The Deep South refers to the seven slave states that originally teamed up to form the Confederate States of America. The historical dependence upon agriculture and labor of African-American slaves (as well as the proximity to Cuba and Mexico) means a large present-day ethnic minority of both African-Americans and Hispanic Americans, and a more apparent cultural mix. Therefore, parts of this particular region are also informally called Black Belt (as well as Bible Belt).
We rented a relatively cheap car large enough to fit the five of us and our luggage. The car looked like a limousine in size but paled in comparison to the cars driving around us. As most of us are still students, we left late June, straight after our finals. The summertime in the South is described as being relentlessly tough, so we made sure to have proper air conditioning and plenty of water available at all times.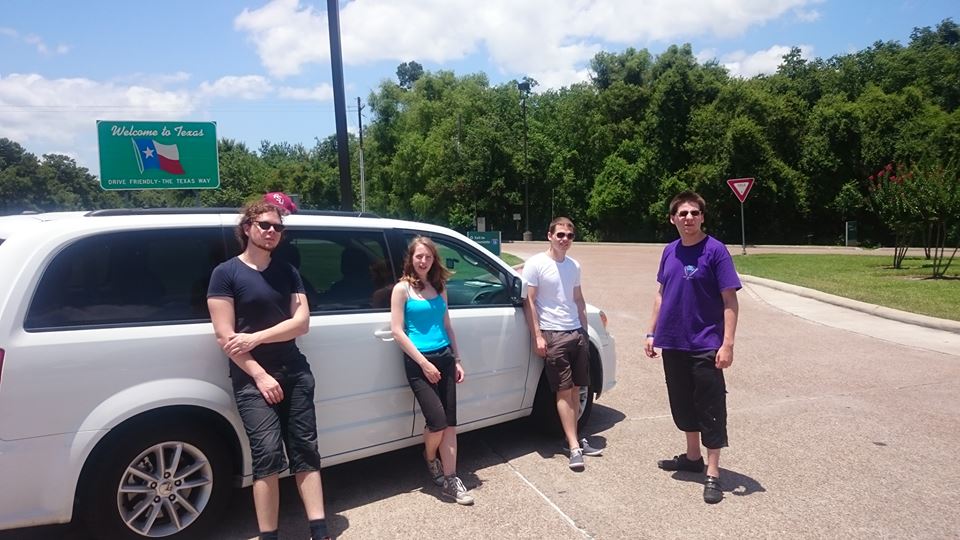 After a pleasant 8 hour flight, we arrived at Miami International Airport in Florida. Despite the late hour it still took us around 3 hours of queuing just to get through border control. On our way out we passed about two fast-food chain a minute, as well as several drive-through gun shops and pharmacies, and big billboards advertising triple-bypasses. Interesting.
We spent some time exploring the everglades, a natural region of tropical wetlands with a large variety of flora and fauna. After passing an alligator crossing the road, we decided on staying in our car for most of the trip.
The Key West is the most southern island of the Florida Keys as well as the most southern city in the USA. The area has strong Cuban influence and is generally known as a tropic nightlife paradise. We spent some time at one of the beaches but found the area too crowded to our liking.
After an incredibly long drive, we halted in panama City Beach and spent the afternoon and evening in a natural park. At this point, we realized cities in the USA don't have city centers similar to the German city-model popular in Europe. Thus we could never just drop our car somewhere and spend the day walking around.
With the upcoming presidential elections most people we met were incredibly keen on talking politics. In the natural park, we met an elderly man who, after inviting us for a pick-nick with his family, tried to convince us President Obama was a Muslim destroying the United States with his socialist plans and support for Muslim terrorists. Actually, the media-portrayal of the elections as a whole felt like a populist bread and games - unsurprising as television channels are private-owned and heavily sponsored by lobbyists.
After a long drive through the scenic beauty of Alabama, we spent a short night in major port city Mobile. I particularly enjoyed the thick accents spoken here, reminding me heavily of the 1994 movie Forrest Gump, which takes place around this area.
Louisiana was one of the more interesting states we've visited, with a strong Cajun and Creole influence present in both cuisine and culture. It's unfortunate that after eleven years, the scars caused by the notorious Hurricane Katrina are still very visible.
Lafayette is a pretty small town with a lively outgoing scene. We watched some Americana bands perform in a very rustique bar filled with heavily tattooed bikers; the whole thing felt like a scene straight out of popular Southern Vampire series True Blood.
New Orleans is known as giving birth to jazz music in the USA and thus couldn't be left out of our itinerary. We stayed close to the famous French Quarter and spent our first night in bars around Bourbon Street.
As first impressions go, that one's a downer. The place reminded of a sleazy red-light district overrun by tourists, while the smell was unbearable and reminded of a mixture of sewer and cannabis. In hindsight this makes sense, historically parts of the French Quarter served as a red-light district, popular for drinking, gambling and brothels.
New Orleans, as most of Lousiana, knows a strong Voodoo culture amongst the creole population (descendants of French or Spanish colonial settlers, often with African or Native American ancestry as well). One of the famous practitioners, Marie Laveau, is buried in New Orleans and her grave became a famous tourist attraction. Frankly, the voodoo culture felt very exploited, and someone we met of Creole descendant mentioned that through modernization plans, very little of the actual Creole voodoo culture remains in tact.
New Orleans has plenty of swamps and bayous. We took a tour through some of them, which was pretty cool.
Texas, the second largest state in the USA and bordered by Mexico, has a long and colorful history culminating in an extremely strong independent attitude today. Thanks to the wonderful people and incredible sights, we've thoroughly enjoyed our in this state and extended our stay by almost a week.
On our way to the state capital, we passed through Texas' largest city and home of NASA's Mission Control Center. As sci-fi fan-boys, we couldn't not visit the space station.
It's a bit unfortunate around this time several violent protests broke out following the shooting of an unarmed black man by a police man, and later on the shooting of several police officers.
We've often heard Austin is a more liberal and alternative city with a large college student population. For this reason we wanted to spent the 4th of July here as well our Friday and Saturday night out. Our stay here didn't disappoint.
Almost all of the bars around here had Jenga games on their terraces. On a particular night, me and two others were on a roll and built a rather large tower, to the point some bystanders started filming and taking pictures. Several time that evening we were approached as "Oh dude you're the Jenga boys, right?" - Which was frankly not the reputation I was hoping for.
One of our best meals was spent at a family-style barbecue restaurant nearby Texas, The Salt Lick BBQ, which we had already heard about before our trip after it went viral on the Internet for their specific style of cooking.
Another good memory food-wise was a Korean BBQ in the center of Austin. Not exactly very American, but I finally get the hype.
Despite being relatively unknown, Big Bend National Park turned out to be the most breathtaking place we've visited. As it lies on the direct border with Mexico, the area has a distinct desert-like environment with fitting flora and fauna. We often came across snakes, lizards and scorpions, as well various spiders and insect I'd rather avoid.
Nashville, the capital of Tennessee is well known as the center of the country music industry in the USA and gave birth to famous musicians as Johnny Cash, Willie Nelson and Roy Orbison, or even more recently Miley Cyrus.
We spent some time on Broadway Street, popular for bar hopping (or "honky-tonking") along various country-music venues. It's a pretty touristic place (we actually passed famous conservative Dutch politician Geert Wilders) and some locals drove us to 5-point, the local outgoing district with a vibrant nightlife.
When traveling, I make it a habit of finding good music by listening to local radio stations or asking recommendations to people I meet in hostels or bars - It's my own personal souvenir and sticks better as regular touristic souvenirs.
This trip's musician is the Nashville born Hank Williams III, a multi-instrumentalist and grandson of famous honky-tonk / country musician Hank Williams. He successfully blends his country and honky-tonk roots with punk rock and metal, and we've often played his albums on our trip.
A first surprise was the enormous influence of American pop-culture on our daily lives: when I first arrived I felt a certain nostalgia despite having never visited the USA before. Yet even more surprising was the spatial planning in these states: we've had occasions of staying at a certain hotel with a certain lay-out and several particular fast-food chains nearby, getting up at 7 and driving over 14 hours over straight concrete roads, just to arrive at the exact same hotel with the same fast-food chains surrounding it. It occasionally felt like a giant simulator with the copy-paste function used a bit too often.
Public transport, especially interstate-wise, is really lacking. A young couple we talked to told us the car-industry successfully lobbied against Obama's plan to introduce a European-style train-network. Even more, with an outrageous amount of advertisements and national flags hanging around, a sense of national identity is more heavily ingrained as in Europe.
Nevertheless it was a thoroughly enjoyable trip. We achieved our goals of playing music on the road, and most of our evenings were spent socializing with locals or listening to local bands perform. People were generally incredibly warm and interested and often invited us over for dinner or drinks.
Speaking of which, I probably gained over 10 pounds eating hamburgers, BBQ and various kinds of fried food.
---